Today I am linking up with Company Girls Coffee. This is through Home Sanctuary where Rachel Anne gives daily Small Things to help make our homes a sanctuary.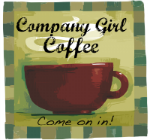 Time to get a fussy girl down for naptime and then on to all the projects for the day.
A Bowl Full of Lemons
project for the day done!
my dresser before: all the material that came out of the linen closet and livingroom closets? Yep, that's it there at the end of the dresser. And it all needed to find a new home today so I am very thankful that this project coincided with a MUST do project for the day!
Hope you all have a wonderful weekend. I'm sadly going to take down all of the Christmas decorations, mostly sad about the pretty lights--sigh!