Day 21--can't believe
A Bowl Full of Lemons 21 Day Challenge
is already over! Can it really be 21 days already? I look back and can't believe how many things got organized around the house--
Thank

you

,

T

o

N

i

!
Day 21 was to show an area that we have already under control and organized. Of course, I'm typing this up on Wednesday because of Tuesday's work schedule. . .I tried to check in last night but my computer wouldn't even let me stay online for more than a second--grrrrrr! So I went to bed, woke up groggy because of fitful sleeping teething baby, and the only area that comes to mind of already being organized is the library spot. Here it is:
DVDs and books kept right here by the TV.
BIG
picture of the entertainment area of the livingroom and Heidi's basket of livingroom toys.
Another area that is organized is the homeschool spot. We just have homeschool on Mondays so there aren't a whole bunch of supplies or books but what we do have has it's own spot:
Here are some of my favorite cards from a Mary Engelbreit card set. They are sitting on the table by my work spot to cheer up my day! Love Mary Engelbreit!!!!!
"a place for everything and everything in it's spot"
quote quite frequently. How much neater things stay if we all put things back in their "spot" after we're done using them--habits, little habits that make such a huge difference.
Well, the challenge is over but I'm not through! Many things are organized and now I need to do a thorough cleaning/dusting. Not just the weekly things. I mean like take all those books off the shelves and dust shelves, books, pictures; sweep around the baseboards then vacuum; wash the curtains; swiffer down the blinds--I have company coming! The kind of ladies who are super duper wonder woman type housecleaners!!!!! I mean the kind of ladies who mop their garage floors type clean. Now I'm not that kind of lady and I'm not going to stress out trying to be one,
but
I would like all visible dust to be gone and it's time to get those bookshelves done--it's one of the seasonal chores on my list from
Home Sanctuary
--yea!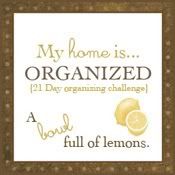 C
o
n
G
r
a
t
u
l
A
t
i
o
N
s
to all my fellow 21 Day Challenge ladies!!!!!