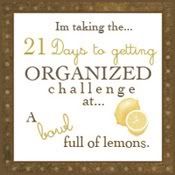 Today was organizing keepsakes for the children's papers & artwork. I started a binder for Eddy when he was in pre-K for all those cute art projects and then started a binder for all the K papers but that soon became overwhelming and I stopped. I liked Toni's idea of using the binder for special keepsakes because there are those and I have some sitting in a box with no where to go. I got that pre-K binder back out and am going to copy Toni and put in dividers for different years. My system simplified and those special things still have a special spot! Thanks, Toni!
keepsakes binder all messy:
G
O
O
D
meatloaves, it is even tastier as leftovers!
"Some of these recipes are amusing, some elaborate and some just plain and easy. That's a good pattern for eating and living--something for fun, something super for special times and something plain for the quiet days with just the family to say "Golly, that's a good egg!" and you sort of feel they mean you're a "good egg" too. Few things are more rewarding to a woman than that happy feeling she has when she knows that the food she has prepared with love and interest brings pleasure to her family, served in a setting more important than any glamorous restaurant--dinner at home!"
So here's the recipe for last night's meatloaf--base of the recipe coming from said cookbook.
** by things I changed.
**2 lbs. hamburger
**1 lb. mild breakfast sausage
**3 eggs
**3/4 c. bread crumbs
**3/4 medium onion, finely chopped
**2/3 c. milk
1 t. salt
1/4 t. pepper
2 T. chopped parsley
**Place all ingredients in large bowl and mix thoroughly with hands. Shape into loaf and place in 13 x 9" baking pan. Bake at 375 for 1 hour. Remove and spread topping over meatloaf. Return to oven for 15 minutes. Let sit for 5 minutes before serving.
**Topping: (this was my Grammer's special addition)
1 c. ketchup
1 c. packed brown sugar
mix well
hmmmm. . .looks like I changed a lot on this recipe. . .well, anyway I got the oven temp and spices from this recipe;-)
The
Small Thing
today was to clean dispensers. So I cleaned the dish soap bottle, kitchen & bathroom handsoaps, 2 lotion spouts, & brushed and flossed my teeth since my mouth's favorite job is dispensing kisses & raspberries to this little one;-)