Friends are coming!!! What shall we have for lunch? Chili!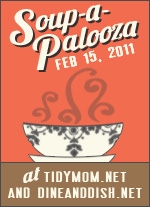 I know it doesn't sound very elegant or fabulous BUT
everything can be made ahead of time and simmering in the crockpot, throw in some yummy sweet cornbread, salad all prepared, dessert ready to go and I, as hostess, can visit with my guests rather than run around like a chicken with my head cut off while everyone else sits and visits. There are times for something fancier but my thinking is
KISS
~
K
eep
I
t
S
imple,
S
heri~did you think I was going to say something else;-)
Here is our tried and true chili recipe:
Brown:
2 lbs. ground beef
with:
1 1/2 c. chopped onion
2 garlic cloves
add:
2- 28 oz. stewed tomatoes, undrained
2- 16 oz. cans kidney beans, undrained
2- 16 oz. cans chili beans, undrained
1 t. pepper
2 t. salt
2 T chili powder
1 t. cumin
Simmer in crockpot on low for 6 - 7 hours.
makes 8 - 10 servings
Some of our guests were Hindu and did not eat beef. At first I panicked because this realization hit me only hours before their arrival. BUT then a friend said, "Just make two pots of chili--one with beef, one without." Brilliant! And since I was behind in the normal recipe time schedule, I put the meat in the crockpot chili for 4 hours on high and the meatless chili in a pot on the stove to simmer about 2 hours--it's the simmering that brings the flavors together.
Happy Soup Day to all of you! I'm off to see everyone else's soup recipes. . .